To make it in a single line or a best tag for "Choose Your Career"
A Guide to Your Future 
                                                                                                          ~Choose your Career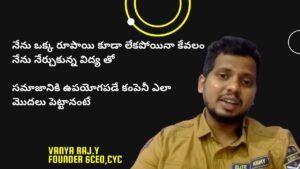 We started "Choose Your Career" with a vision to make the best suggestions for your career and to stand by you in the progress of Choice you made. We suggest you with the Best coaching center for  exams and Job oreinted Courses "Choose Your Career" we started it now with the information, updates and preparation guidance about all the public exams and software courses . Here we provide you with both online and offline classes for all the public exams and software courses. we provide you the best training and coaching at the best and affordable price. We help you with what to choose for your career, but it's up to you to how to design your Career. We started it with a thought that Every individual is different and his/ her unique characteristics and qualities. Comparing yourself to others around only increases the distress, especially when you start focusing on where you are lacking compared to others. It is important that you channelize your energy towards your positive traits. So one should never imitate anyone. Be the one which you are in actual and never pretend. That way we provide you with the information and opportunities that but we won't judge you what your future to be, we suggest you, we try to make you understand and you will finally make your choice what you really need to be your career, because your the only person who know entirely about the plan you have for your future and career. We help you in the preparation for the choice you made for your future, we assure you that we will provide you with the best training that really matters in your way to success, but it's up to you how you prepare.
From Below Average Student  to Entrepreneur
About me ,I am Vanya came from local college and small town called Kandukur.
I have faced many issues to get the job.No one is there to guide me which course to take and further guidance .After a struggle of many days.For money I have worked as swiggy delivery boy to survive in Hyderabad.
I started my career as a Tele-caller and then worked as offline marketeer while pursuing B'tech.
After learning about Digital Marketing, I started pursuing it. The importance of Graphic Designing in Digital Marketing made Graphic Designing  the next skill I learned.
The importance of websites and platforms to promote business made me learn Python despite my fear of coding.
There are few requirements for starting any business:
1.Counselor to get clients /customers .(My First Job)
2.Business Development (My 2nd and 3rd Jobs)
3.Business Promotion(My 4th Skill)
4.Developing a software(My 5th Skill)
My investment for my business are my skills that I learned over a period of time.
Learning new Skills and Knowledge always helps in your life.
During this pandemic, learn a new Skill and start your first step towards a new You .
If you have any query regarding job oriented courses, feel free to contact
I decided to support middle class and lower middle who came from Village and small town to guide to choose right career and course and also we provide all types of Job oriented Courses.
This is my contribute to society to build better society-Vanya.Y