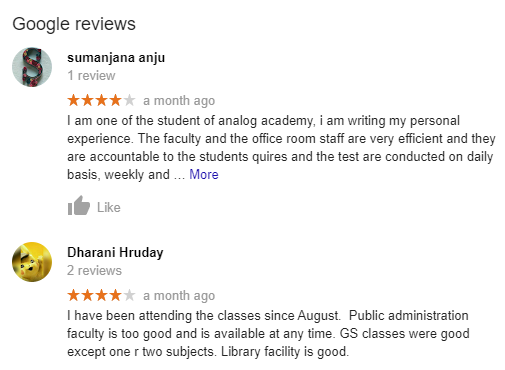 Analog Education Society was established with an aim to impart quality education both in terms of technical skills and all-round personality development. The first initiative was the establishment of ANALOG IAS INSTITUTE for aspirants preparing for Civil Services Examination conducted every year by Union Public Service Commission(UPSC). Founded in 2002, analog ias institute has the distinction of producing All India toppers with its quality and effective teaching methodologies. This website is meant for those aspirants with a strong desire to be part of the most coveted Civil Services and contribute the best to public life.
Mr. Srikanth Vinnakota, Director of the institute, himself an M.Tech in Mechanical Engineering, qualified for Civil Services Interview thrice with Mathematics and Psychology as Optionals. He has the distinction of producing All India Rank – 1(Revu Muthyala Raju) in Civil Services 2006 and here trained from the top IAS Coaching in Hyderabad, that is analog IAS. This is first ever AIR – 1 from both Telugu States. "Srikanth Sir gave me a direction for my preparation" are the words of Mr. Revu Muthyala Raju and thanked his mentor in one of the largest gathered Seminars conducted at Domalguda, Hyderabad.
Admission 2019-20
Hyderabad
Indira Park
9912441137
Hyderabad : Indira Park
House No: 1-2-288/32, 1st Floor,
Indira Park 'X' Road, Domalguda,
Hyderabad – 50002
Mobile:9912441137
Email:info@analogeducation.in
mail:info@analogeducation.in
Hyderabad : Ashok Nagar
3rd Floor, Kamala Towers,
Above OBC Bank, Ashoknagar X Road,
Ashoknagar, Telangana 500020.
Mobile:9912441138
Email:info@analogeducation.in