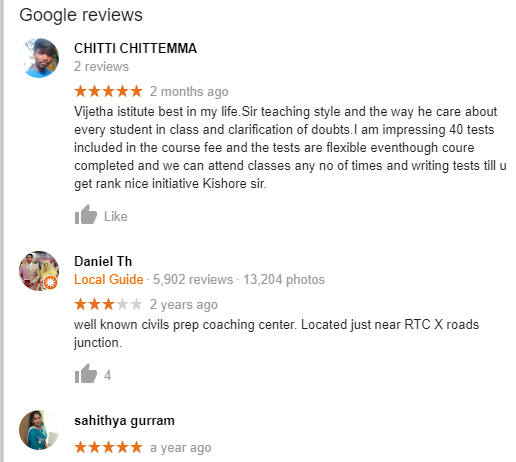 Established in 2016, we are a start up coaching institute mentoring students to succeed in the most prestigious and one of the most difficult exams in the country. We are committed to deliver our best to our students. We are always in a continuous pursuit to improve ourselves from the feedback that we get from our students.
We specialize in given coaching in the Anthropology optional and in Anthropology Test Series. Anthropology is being taught by Mr N.P.KISHORE who did his Double Masters from UK and has a vast experience working in various multinational companies as a Scientist in UK. He has also many academic qualifications besides having a first hand experience in UPSC – CSE exams and mentoring number of students not only in Anthropology but also in Environment, General Science and Science & Technology. Currently he also works with number of reputed and leading coaching institutes for UPSC -CSE exams.
We at Vijetha also have a dedicated team of professionals handling various other General Studies Modules and helping students to realise their ambition to get into civil services. We also conduct test series programmes for Prelims, Mains and daily answer writing sessions.
We welcome all those serious aspirants to our academy. It is our promise that we will help in every possible way in their preparation and to fulfill their dreams to become a civil servant.
Admissions 2019-20
09246110226
Kavadiguda, Hyderabad.
8, Indira Park Rd, Sweta Enclave, Jawahar Nagar, Kavadiguda, Hyderabad, Telangana 500020
Mobile: 09246110226