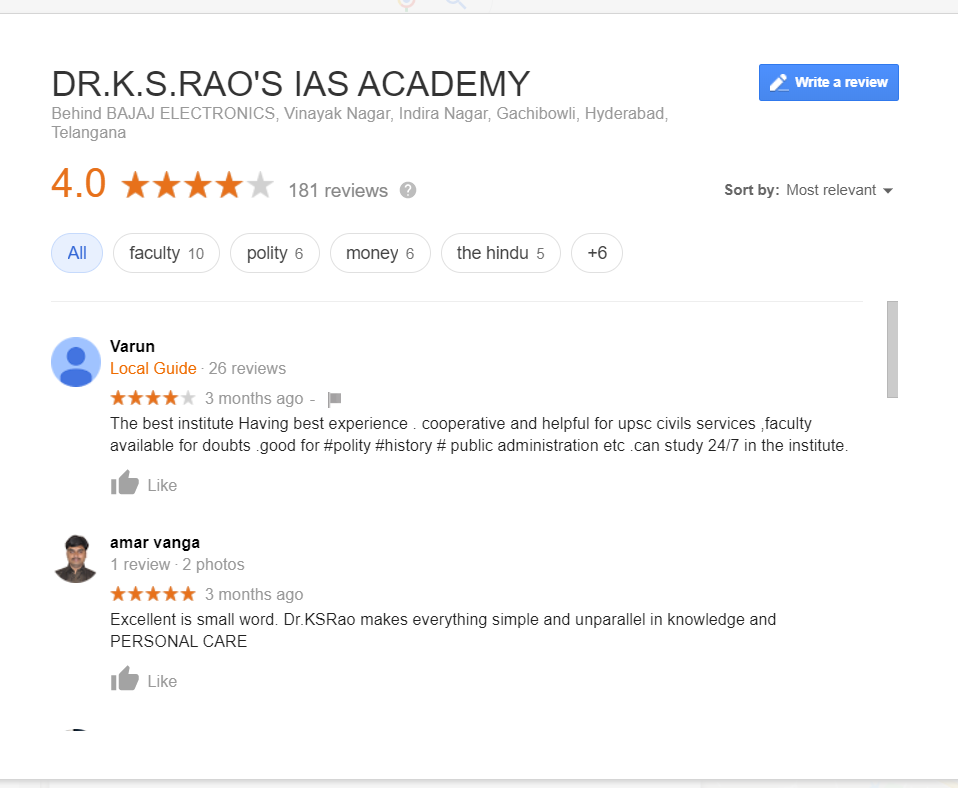 About DR.K.S.RAO'S IAS
DR.K.S.RAO'S IAS Academy has been working for many years now to successfully help students achieve their dreams of getting into prestigious IAS working posts. Their center has advanced classrooms and flexible timings making it preferable for many students to visit here. The faculty consists of teachers who are experienced and there are also qualified professionals who have previously hold reputed positions in the government. So the students get brilliant guidance under them successfully.
History of DR.K.S.RAO'S IAS
The Institute for IAS Preparation is having its name from Years but Still, the other IAS Coaching Centres are performing good in terms of producing IAS results. Rao's IAS coaching believes in giving the Credit to students thought process. If you want to prepare Exclusively for Indian police services(IPS), Indian Foreign Services (IFS) then you will get Exclusive Batches for the same.
Before joining the Rao's IAS Coaching do take the demo classes which often happen in Kondapur 9 a.m. to 1 p.m. and at Gachibowli from 2 pm to 6 pm.
The Institute says to convert your ambition of becoming an IAS officer, work hard and put hours of effort. every year Thousand of UPSC aspirants Join IAS Coaching and Fill the form, but only serious Students are able to Crack the IAS EXAM.
IAS Faculties:-
You will get Dr K.Srinivasa Rao for Polity-Governance and International Relations.
Dr.RAMESH KANNEGANTI will teach you Security Issues subject to the Unique way of Teaching.
Varun sir Teaches Social Issues at the Rao's IAS Coaching Hyderabad
ADMISSIONS 2019 –20
09959745625
Hyderabad – Serilingampally
Gachibowli Road, Vinayaka Nagar,
Behind Inn, Aditya Shreerama,
Serilingampally, Hyderabad, Telangana 500084
Mobile: 09959745625
Email:ksraoias@gmail.com